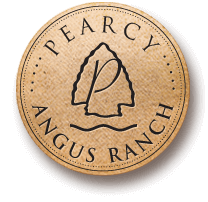 PEARCY ANGUS RANCH
"Inspiring Excellence in Angus Cattle and Agriculture"
Welcome to Pearcy Angus Ranch (PAR), where our mission is to inspire excellence in Angus cattle and agriculture. We are driven by our core values of Truth, Teamwork, Efficiency, Integrity, and Learning. Nestled in the breathtaking Hill Country near Fairy, Texas, PAR is a premier 6-section cattle ranch that upholds the highest industry standards through hard work, dedication, and written systems & procedures.
At PAR, we specialize in breeding and raising high-quality registered Angus cattle with top EPDs (Expected Progeny Differences) and a perfection phenotype. Our cattle not only possess exceptional genetics but also exhibit gentle temperaments, making them a joy to work with. Our ultimate goal is to provide customers with grass-adapted cattle that excel in maternal traits and genetic predictability. Join us every 2nd Saturday of September for PAR's annual Angus genetics female sale.
Achieving superior genetic outcomes requires employing cutting-edge breeding techniques such as artificial insemination (AI), embryo transfer (ET), and in vitro fertilization (IVF). These advanced methods ensure that our breeding program remains at the forefront of innovation, consistently producing offspring that meet the needs of both seed stock buyers and commercial cattle producers.
In addition to our commitment to Angus cattle, Pearcy Angus Ranch operates four other agriculture operations. Our Texas farm-to-fork registered Angus beef sales operation offers top-quality, locally sourced Angus beef, delivering an exceptional dining experience. We are also involved in WW B-Dahl Bluestem seed harvesting, hay production, and sales, as well as beekeeping and apiaries.
As one of the leading Texas ranches in registering new Angus calves annually, Pearcy Angus Ranch stands as a symbol of excellence in the industry. We invite you to explore our website and discover the wide range of services we offer. Whether you are a cattle enthusiast, a beef connoisseur, or an agricultural partner, Pearcy Angus Ranch is dedicated to meeting your needs with unwavering commitment and exceptional quality.